CONTEMPORARY COMMUNITY HEALTHCARE
at the FIVE HORIZONS HEALTH CLINIC
Treatment at our clinic is provided by a certified nurse practitioner. Clinic hours are Monday - Friday from 8:30 a.m. - 5:00 p.m; the clinic closes from 12:00 p.m. - 1:00 p.m. for lunch. During to the current COVID-19 pandemic, we are currently NOT accepting walk-ins. Please call 205-759-8470 or use our online portal to request an appointment.
Five Horizons during COVID-19
Due to the COVID-19 pandemic, the Five Horizons Health Services clinic will begin limiting in-person medical visits in an effort to protect patients and the clinic staff from possible exposure. HIV/STD/STI walk-in testing is suspended at this time. To make an appointment for STD/STI testing, PrEP or HIV services, you can call 205-759-8470, option 1 and leave a message or go to the "Medical Care" tab on the website to schedule an appointment with one of our providers. Our phone lines will be monitored constantly for questions, appointments, and refill requests. We are committed to continuing to serve our patients and the community during this difficult time.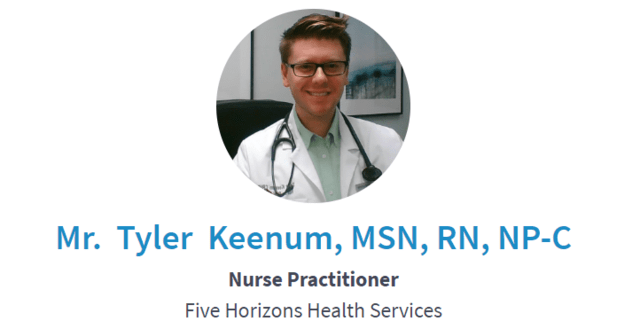 Patient Reviews
The staff at Five Horizons are alwats very professional and personable. I feel like I am walking into an environment with family and friends.

Staff is extremely personable, helpful, and kind when assisting. This clinic is very well run and certainly operates with the patient's best interests at heart. They do not make you feel like a number-they make you feel like an individual seeking health care which has been difficult to fully experience as a queer individual. Kudos to these folks for doing such meaningful work in the community.

Five Horizons is simply the best service. I've never had anything but kindness, compassion, and competence from Tyler.

Tyler made me feel super comfortable during my visit. He also explained various options regarding STD prevention to me. This was overall a great experience.

I love coming to Five Horizons. Jimmy, amongst the other incredible staff members, are always kind whenever I visit. I feel safe and happy whenever it's time for me to come back for another appointment.

Jimmy Winters is the nicest Nurse Practicioner I have ever met! He instantly puts you at ease. Honestly, the entire staff (that I had the pleasure of interacting with) are nice and easy to deal with. Scheduling an appointment was a breeze, check-in is easy, wait-time was short, lab-work was quick and painless, and follow-up was fast. All around, the entire process was painless and I would definitely recommend 5 Horizons.
Limited Primary Care
Establish yourself as a patient at Five Horizons Health Clinic and you'll have access to treatment for several common illnesses and conditions including:
Allergic Rhinitis
Annual Wellness Examinations
Bronchitis
Influenza (Flu)
Sinusitis
Sprains and Muscle Strains
Strep Throat
Upper Respiratory Infections
Urinary Tract Infection (UTI)
Preventive Treatment and Testing
- PreExposure Prophylaxis (PrEP) When taken as directed - a once-daily pill - PrEP is 92% effective in preventing HIV infection (source: cdc.gov); for more information, click here.
- Hepatitis C (HCV) testing.
- Human Immunodeficiency Virus (HIV) testing.
STD/STI Testing and Treatment
Additional Clinic Information
Appointments are strongly encouraged. You may make an appointment by calling (205) 759-8470.
Payment options include most insurances, Medicaid, Medicare, and self-pay.
For self-pay patients, the cost to see the nurse practitioner is $75 per visit. This does not include costs for labwork, costs associated with treatment (i.e. medicine), or any other costs associated with the visit.
For insured patients, costs vary depending on office visit co-pay and deductibles for lab work.